Arun Kumar, MD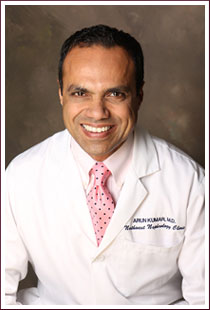 Arun Kumar, MD was born in India. He received his Medical Degree from the University of Madras in 1987. He practiced medicine in Madras, India as well as Kuala, Malaysia. He traveled to the United States to complete residency in Internal Medicine at the University of Rochester and later transferred to Case Western Reserve University in Cleveland, Ohio where he completed his clinical research in Hypertension. He completed his Nephrology fellowship at Penn State Hershey Medical Center in Hershey, PA.
Dr. Kumar joined Northwest Nephrology Clinic in October 2006. He is a member of the American College of Physicians, American Society of Hypertension, International Society of Nephrology, American Society of Nephrology and the Renal Physicians Association. Dr. Kumar is board certified in internal medicine and nephrology and is also a Certified Hypertension Specialist.
In his spare time, Dr. Kumar enjoys sports. He resides in Lawrenceville, GA with his wife.